Wealthy Affiliate Review
This site is a free Wealthy Affiliate (WA) site. WA provides a great free way for people to test out the whole 'start a business via there own website' idea.
There's no time limit for a free membership and only gentle encouragement to upgrade to premium which is $19 for your first 'trial' month $49 per month thereafter with a reduced yearly rate of $359 when you're ready.
But first things first let's look at what you get for free…
CLICK HERE TO GRAB YOUR FREE MEMBERSHIP…
Highlights of WA's free membership
2 hosted FREE WordPress based websites
No limit to the free membership (stay free forever)
Your content is your own and can be easily moved if you decide to build your online business long-term
Wealthy Affiliate provides a great free Keyword Tool meaning you can test the ENTIRE system for free!
Success = learn Keyword Research which turns into Website Content which attracts free visitors from search engines which you can monetize in many different ways!
So how easy is it to build a free website with Wealthy Affiliate on their SiteRubix.com platform?
Easy enough?
Fast enough?
Success following the proven (11th year at time of writing) WA system is based on learning how to do keyword research which you turn into compelling content for your website which in turn attracts free targeted visitors from search engines which you can monetize in many different ways (affiliate marketing, Google Adsense, Amazon associate program, promoting your own products/services for example).
Some people make a very handsome living working part-time focussed on those 2 activities 1. Keyword Research 2. Content Creation (written, video, podcast, hybrid) …the monetization is usually a done once piece of work.
So would you like your days to be about keywords and content instead of commuting and stress…
Can you learn to use a free software app to find your keywords and then turn that into content for your site?
The Wealthy Affiliate FREE Membership gives people the chance to test this out and see if it's potentially for them.
WARNING: It's not as easy as it sounds and success rarely comes big within 6 months. Consistent action is needed.
Will Wealthy Affiliate Work For Me?
Honestly?
You have to try it …I love doing keyword research but suck, suck, suck, at writing (it's exhausting for me).
Richard hates keyword research but enjoys creating content …we're starting to share the work.
There are many different styles of marketing people can use, but in my opinion Wealthy Affiliate teaches the easiest and least risk (in terms of financial set-up). But please test it, and if it's not for you move on.
HOWEVER, WA HAS WORKED FOR THESE PEOPLE…
Disclaimer: All these people have worked hard and helped others, but everyone is different and results will vary.
​
As we look at each, we'll look at their approach and how they chose to monetize their site(s).
We'll use Wikipedia for some of the definitions…
Google Adsense " is a program run by Google that allows publishers in the Google Network of content sites to serve automatic text, image, video, or interactive media advertisements, that are targeted to site content and audience. These advertisements are administered, sorted, and maintained by Google, and they can generate revenue on either a per-click or per-impression basis". Read more…
Affiliate Marketing " is a type of performance-based marketing in which a business rewards one or more affiliates for each visitor or customer brought by the affiliate's own marketing efforts". Read more…
Cost Per Action or CPA "sometimes known as Pay Per Action or PPA; also Cost Per Conversion is an online advertising pricing model, where the advertiser pays for each specified action – for example, an impression, click, form submit (e.g., contact request, newsletter sign up, registration etc.), double opt-in or sale". Read more…
In no particular order…
Suzette Is Making It Happen
One of the hardest parts about creating website content is you've no idea when and if it will ever pay…
​
This aspect of online marketing is what stops most people from breaking through.
​
This post from Suzette brings it all into perspective…
​
Now $51.00 doesn't sound like a lot but It is, and I am going to tell you why. This commission came from a pet product company that I promote on my cat website. What makes this so cool is that I have actually put that website on the back burner for about 2 or 3 months!
It just takes time for Google and the gang (other search engines) to trust websites, before they start sending you visitors…
​
For those of you who have doubts. For those of you who are waiting, for what seems like eternity, to receive a commission, IT CAN HAPPEN, IT WILL HAPPEN, just don't do what I did and put your passion, your dream on the back burner!​
First off we have Eddy Salomon who is a longtime member of WA and who demonstrates four ways of earning money from his Wealthy Affiliate training.
Eddy's first site helps and advises people about making money online.
He helps folks avoid the scams and promotes products and services that he feels provide value. The site is monetised through Google Adsense, CPA lead generation, and Affiliate Marketing promoting WA amongst others.
Eddy (center) pictured with WA co-founders Kyle & Carson
Las Vegas 2013
The second site promotes the business Eddy set up after learning WA's approach to website building and site promotion. A full-service marketing agency providing marketing advice and search engine optimization services to local businesses in New York.
Extracts from Eddy's story…
Well what can I say? I'm very blessed in that I'm one of the few people that is job free by choice. lol I've been in the make money industry since the early 90s. But was never able to make a full time living with it until about 2008…
Furthermore I've taken the SEO and WordPress website creation skills you'll learn here on WA to start my own offline digital marketing agency: www.InternetMarketingSmarts.com I've literally earned thousands of dollars to design websites for small businesses and promote them. So you can even use what you learn here at WA for businesses outside of affiliate marketing.
No get rich BS here. Rather hard work and the right advice… Read more about Eddy here…
Wendy Jane (right in the picture) joined WA after graduating college and finding that the doors to secure employment didn't just open (tough times for grads currently).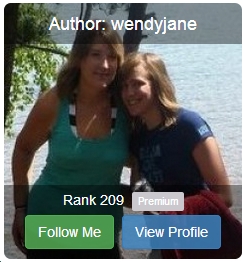 So a little research later and a few false starts Wendy found WA…
Now no looking back for Wendy.
However, Wendy has only been doing this since Jan 2013 and achieved 1600% growth in profits her first year. This doesn't completely do Wendy's achievement justice as health problems slowed her down significantly.
Wendy has two main websites…
A 'Tall Girls Fashion Blog' (Her first WA website build)
Wendy's tall girl fashion blog helps tall girls find the best clothes for their body type, and is monetized using Google Adsense and Affiliate links to niche retail outlets, though I didn't see any the Amazon Associate Affiliate program could also work well with this site idea. Great Information and a natural helpful style.
Site 2 is Wendy's story of turning the post-college blues into success. This site promotes Wealthy Affiliate free membership.
Extracts from Wendy's story…
I joined WA in late January, stepped outside my comfort zone and started my own online business. I have learned SO much (and of course still continue to learn each and every day!) from the training and community here. I cannot thank everyone enough, including Kyle and Carson. They must be superhero geniuses.
From the moment I made my first sale, I knew this was serious business and I never gave up. I may have taken the occasional hiatus, but the part that matters is I alwayscame back to my business.
I did not give up…
​
What a fantastic achievement…
Looking for forward to 2014's results! Read Wendy's full story here…
WA SUCCESS UPDATE: 2016
Wendy's only gone and done it…
​
Qualified for the WA Las Vegas convention as one of the most successful promoters of Wealthy Affiliate…
​
Probably because sets us all such a great example!
Want to see live this very minute success stories posted within the community?
looks like…
Notice the bottom posting? CraigUKTV …total first-year earnings. Real results live!
Curious?
Click here to see Craigs total 1st-year earnings post live feed…
Summary
Hi my name is Suzi and I wanted to take a different tac with this review, as the purpose of this site is to test if it's possible to make money with a 100% free WA website (this one).
Start Here explains my reasoning and strategy. While I feel I should go on to say a lot more about Wealthy Affiliate, do I really need to? Wealthy Affiliate has been operating for over 11 years and has hundreds of thousands of happy customers, offers free lifetime membership, discounted premium membership with a money back guarantee in case you upgrade and decide it's not for you …very little risk.
Potentially life-changing upside if it turns out you're good at this stuff…
CLICK HERE TO JOIN WA FOR FREE